1999 – 2003
World Classic Rockers (WCR)
In April of 1999, I was asked to join World Classic Rockers (WCR, for short).
This opportunity came up after I had played on Fergie Frederiksen's "Equilibrium" CD. The drummer in WCR at the time was Bruce Gary, of The Knack, and prior to Bruce, they'd used Carmine Appice and Denny Seiwell (of Paul McCartney & Wings).
I'm not entirely sure why, but Bruce was leaving the band and they needed someone to replace him and Fergie was kind enough to recommend me. The opportunity came up at a perfect time for me, and the structure of the band was also quite appealing, as it gave me an opportunity to work with some musical legends, in an environment that took us around the world, playing mostly high end private events, for some of the biggest companies in the world, but was not a full time "touring" situation, which allowed me to continue working on various other sessions, recordings and other projects in Los Angeles.
When I joined, the lineup of the band included Randy Meisner (original bass player/singer/songwriter with the Eagles, Poco, Rick Nelson, and Linda Ronstadt), Denny Laine (original guitarist and singer with the Moody Blues, as well as with Paul McCartney & Wings), Spencer Davis (of the legendary Spencer Davis Group), Michael Monarch (original guitarist with Steppenwolf), Fergie Frederiksen (former lead singer with Toto), and Nick St. Nicholas (formerly of Steppenwolf).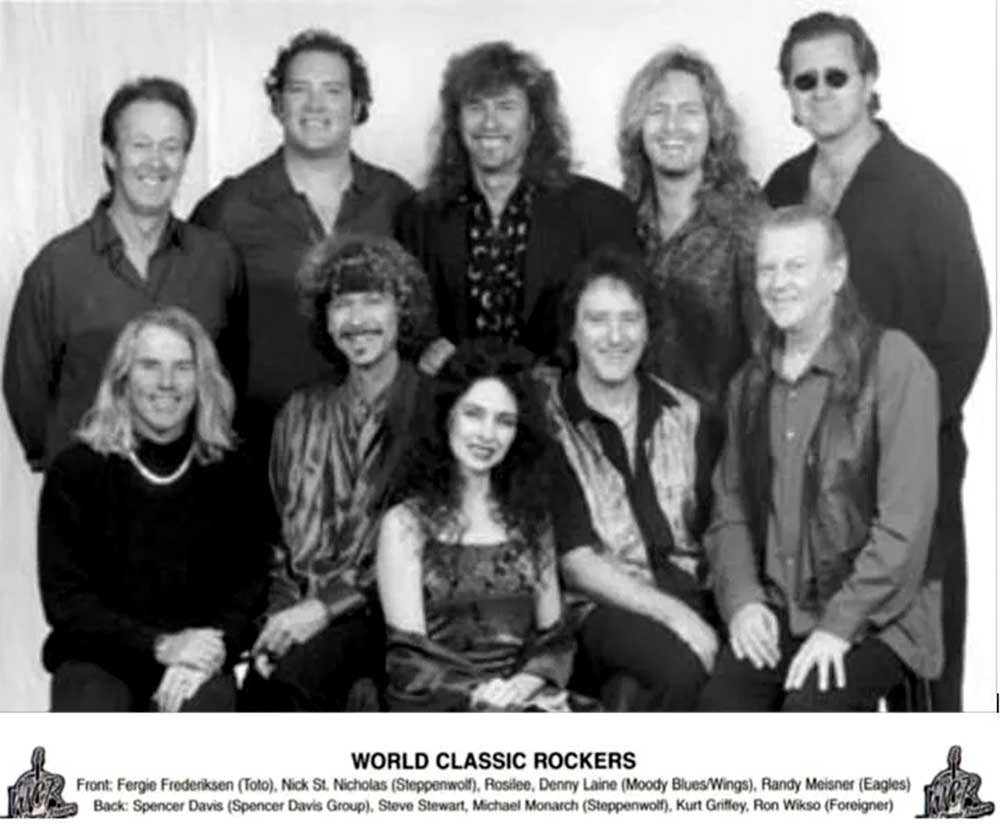 World Classic Rockers 2000 – (L-R, Top Row) Steve Stewart, Michael Monarch, Kurt Griffey, Ron Wikso. (L-R, Bottom Row) Fergie Frederiksen, Nick St. Nicholas, Rosilee St. Nicholas, Denny Laine, Randy Meisner. (Not pictured – Spencer Davis).
Photo by Henry Diltz
The band was rounded out by Kurt Griffey on guitar (who became one of my dear friends and who I later recruited to play in the Gregg Rolie Band, and then played with in Eddie Money's band, and with Creedence Clearwater Revisited and Revisiting Creedence), Steve Stewart on keyboards (who later joined The Sweet), and Rosilee St. Nicholas on backing vocals.
The band was essentially billed as an "All Star" band, due to it featuring members who'd played with a variety of major rock/pop bands over the years, and we performed a handful of the biggest songs from each of those bands. This was very appealing for a lot of corporate clients, who hired us to perform at their big company gatherings in some very exotic locations!
To illustrate that, after doing one "warm-up" show with the band in Pennsylvania, my second trip took me and the band to Monte Carlo, Monaco, where we played two shows for a corporate client. After that, we played many shows all over the world in lots of exotic locations, which included Dubai, the Bahamas, Bermuda, several other spots in the Caribbean, the Philippines, Guam, the Netherlands, Whistler, BC, Canada and at least 4 or 5 trips per year to Hawaii, including the Y2K New Year's Eve. And that's saying nothing of the many places we played all over the United States, including Pebble Beach and various other resort spots here.
Needless to say, having the opportunity to travel to some of these places and play music with some legendary musicians was quite a blast and I count myself as extremely lucky to have had these experiences!
WCR "Rock The World" Audio Tracks
Along the way, Michael Monarch and I found time to produce a record called "Rock The World", and while it was sold at some shows, it was mainly designed as something our manager and agent could use for prospective clients and promoters, so they could hear what we did and what we sounded like. You can hear that record on this page.
We also did a number of public shows and other apperances, including performing on the Regis and Kathie Lee television show but as we started ramping things up with the Gregg Rolie Band, I was unable to juggle the schedules for both bands so I elected to move on and try to help establish what we were building with the GRB.
I was replaced in WCR by the legendary Aynsley Dunbar but I did wind up doing a handful of shows with the band that he was unable to make it to, mainly in Canada, soon after I left the band. And then, in 2023, I was asked to cover for him again and fill in with the band for 3 shows (Orlando, FL, Las Vegas, NV, and Denver, CO). By this time though, the band had gone through a number of changes in the lineup. Fergie and Spencer have both unfortunately passed away, and Randy and Denny are no longer with the band. The band now includes Randall Hall (Lynyrd Skynyrd) who actually joined right near the end of my initial tenure (hence the reason for the recording of Sweet Home Alabama in the list on this page), Fran Cosmo (Boston), Greg Walker (Santana) and supporting members Mark Hoyt on keyboards, Dave Coyle on guitar, Bernie Garzia on bass guitar, and Daniel Formica on vocals.
Who knows, perhaps I'll be asked to play with them again at some point but for now, I'm grateful to have had the experience of working with everyone who played in the band!