In January of 1995, after they had auditioned more than 45 other drummers, I had the great pleasure of being asked to join one of the best, most prolific bands in modern Rock & Roll….Foreigner. Anyone who was awake for the previous 20 years could not have helped hearing such great songs as "Hot Blooded", "Double Vision", "Feels Like The First Time", "Cold As Ice", "Urgent" and "I Want To Know What Love Is" as they helped to shape the soundtrack of a generation.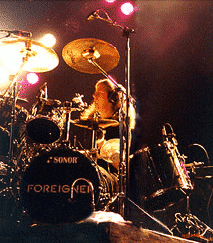 Ron Wikso Onstage with Foreigner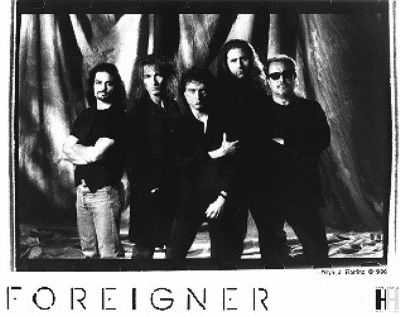 Foreigner 1996 – (L-R) Jeff Jacobs, Bruce Turgon, Lou Gramm, Ron Wikso and Mick Jones
Lou Gramm's incredible and distinctive voice is one of the best to have ever graced a microphone and Mick Jones' driving signature guitar and keyboard riffs gave Foreigner a unique and undeniable sound that people will enjoy for many years to come.
After a few warmup dates, I was fortunate to have begun my work with with Foreigner by embarking on 1995's "Mr. Moonlight" World Tour. We started off in Europe with The Doobie Brothers opening for us and followed that up with a trip to Australia and New Zealand (also with The Doobie Brothers). After New Zealand, we made stops in Singapore and Malaysia before heading to Japan for a few weeks.
Following that, we played 2 shows in Alaska before heading home for a week to get prepared for the North American leg of the tour. We toured all over the U.S., Canada and Mexico from late May until early September before taking the rest of 1995 off.
In 1996, we started off by recording 5 new tracks at The Studios At Linden Oaks, in Lou Gramm's home town of Rochester, NY. I don't know if there are plans to ever release those tracks but I think there is some pretty good stuff there and it would be a shame if the world never got to hear it.
After those recording sessions, we did a 3 month tour of the U.S. on the "Can't Stop Rockin' tour, which was a package that included REO Speedwagon and Peter Frampton.
That tour was a lot of fun for me because my good friend Dave Amato was playing guitar with REO and several other people that I know were working on the tour. Through Dave, I already knew all the guys in REO and of course Mike "Beefboy" Garrigan, who Dave and I had known from our days with Cher (and who we later worked with on the Majic Ship project), was REO's tour manager. There were also several other crew members that I had worked with on Cher's tours, including production manager, Omar Abderahmenn. And if that weren't enough, I had also toured with Peter Frampton in 1992 when I was in The Storm and was thrilled when Peter sat in with us on a few occasions during the "Can't Stop Rockin'" tour!
We finished 1996 with a sort of mini tour that included dates in New York and Pennsylvania with Eddie Money and Dave Mason followed by more dates with REO Speedwagon in Florida.
We ended the year with a New Year's Eve performance at Pleasure Island in Orlando, FL where none other than the legendary Little Richard played on one of the other stages.
1997 started off with several dates in the South, including Mississippi and Nashville before we took a few months off in preparation for the Spring/Summer touring schedule that was being put together.
We were scheduled to start in Japan in April of 1997 when, to everyone's surprise, we received a telephone call the night before our scheduled departure telling us that the tour was being cancelled and we shouldn't go to the airport the next day.
We had been packed and ready to go, our gear and our production manager were already in Japan awaiting our arrival and nobody was sure what to think.
We later found out that Lou Gramm had been diagnosed with a brain tumor. Needless to say, we were shocked and very concerned for Lou's health.
Unfortunately, due to Lou's ongoing health issues, the rest of 1997 turned out to be a bust and we didn't do anything much for the rest of the year. We all attended his wedding in August of that year but that was about it.
In 1998, it was time to move on and that's when I joined Richie Sambora's band.