In early 1992 I was referred, by Mr. Big's drummer Pat Torpey, to a new band called The Storm. The band featured original Santana and Journey lead singer and keyboard player, Gregg Rolie, original Journey bass player, Ross Valory, singer extraordinaire, Kevin Chalfant (formerly of 707 and Steel Breeze) and guitarist, Josh Ramos. Pat was recommending me to replace drumming virtuoso, Steve Smith (Journey, Vital Information, Jean Luc Ponty, Steps Ahead and many others), who'd played on the first album by The Storm, but had decided to leave the band prior to their upcoming tour.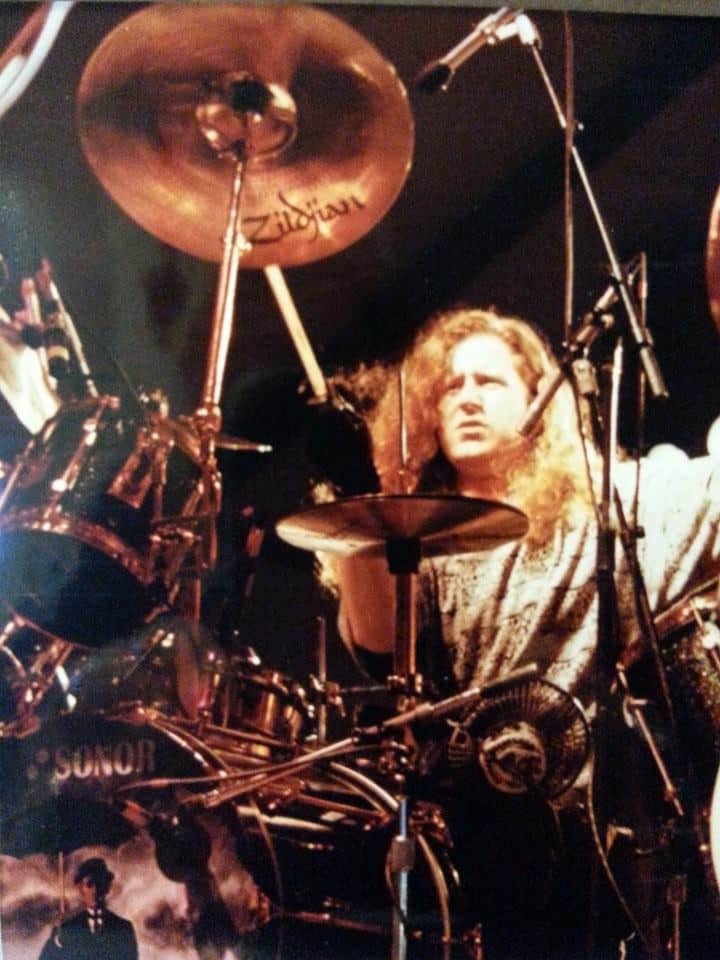 Ron Wikso Onstage with The Storm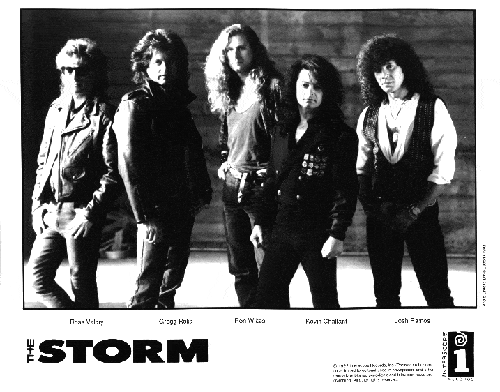 The Storm 1992 – (L-R) Ross Valory, Gregg Rolie, Ron Wikso, Kevin Chalfant and Josh Ramos
That first album had recently been released on a new label called Interscope Records and both the record and the record label were starting to do pretty well. They were about to do a video for their second single and embark on a major North American arena tour supporting Bryan Adams, who was riding high on the strength of his "Waking Up The Neighbors" CD and his hit single "Everything I Do", from the soundtrack to the hit Kevin Costner movie, "Robin Hood".
The only problem that I was faced with was, I had already been asked to go on tour with Cher again and I wasn't sure if I would be able to get out of it gracefully if I was chosen to join The Storm. I wasn't even sure if joining The Storm would be a better option for me and I had to wait as they waded through 20 or 30 other drummers that were auditioning.
I went up to San Francisco and auditioned and then waited to hear back from them. When I did, they asked me to come back up and play with them again, this time for their managers, Scott Boorey, who was also managing Y&T and Herbie Herbert, who was well known as a driving force as the manager of Journey. By that time, Cher's rehearsals had already started but I decided that, if I was offered the gig, I was going to accept it and just explain to Cher that it was an opportunity that I couldn't afford to pass up, since it meant being a full band member, as opposed to just a hired musician, as I was with her. I just had to hope she would understand.
The day that I flew up to San Francisco to play for The Storm's managers was a bit precarious for me because I had to get there early to play with them and get back to Los Angeles in time to go to Cher's rehearsal that night. I couldn't afford to let on to Cher that there was a possibility of me leaving her band in case the gig with The Storm didn't happen.
Fortunately, the flights all worked out with no delays, and after playing with The Storm, I made it back down to LA in time for Cher's rehearsal.
The next day, Scott Boorey called me and asked me to officially join The Storm as a full band member. I called Cher's manager and let him know the situation and told him that I would fulfill my obligation to her for a gig that was already booked for the following week and that I would help in any way that I could to find a replacement but that I was not going to be able to go to Europe on the tour that was starting the following month.
That night at rehearsal, Cher came in (after making a cameo appearance on the Arsenio Hall show where her then boyfriend, Richie Sambora, was playing) and, having already been told what was going on with my situation, looked at me and said "traitor!". Luckily she was just messing with me and, after explaining to her why it was a good opportunity, she was very happy for me.
After finishing a couple of weeks of rehearsal, The Storm embarked on it's first ever tour…in fact, it's first ever live gigs of any kind! We started off in Cincinnati, OH in March of 1992 and continued for the next two months all over North America with Bryan Adams, including a date at the Los Angeles Forum about a week after the infamous LA riots.
After a brief break, we did some more promotional dates before going on another tour of the US, this time with the legendary Peter Frampton.
Just prior to the end of our tour with Bryan Adams though, I received a call from Cher's manager, Bill Sammeth, who was in Europe on her tour. He wanted to know if I might be able to do some more dates with Cher when she came back to the U.S. because things were not working out with the drummer that had replaced me in her band.
As luck would have it, the dates that she needed me for were right in between the dates that I had with The Storm so I was actually able to do both tours at the same time!! It was a bit of a brutal travel schedule but it was a wonderful challenge to play both shows and do justice to both bands.
The Storm's tour with Peter Frampton continued on through the rest of the summer and then we did some more shows where we headlined and still more shows where we shared the bill with people like Tom Cochran, Eddie Money and others. I then finished my touring for the year by playing with Cher at New York City's Paramount Theater at Madison Square Garden right around Halloween.
After all of the touring was finished, I took a bit of a rest and then spent the rest of the year getting ready to record The Storm's second album, "Eye Of The Storm".
I co-wrote 2 of the songs (along with Gregg Rolie and Kevin Chalfant) on "Eye Of The Storm"…'Waiting For The World To Change' and 'In The Soul Of A Man'. That was a lot of fun and so was making the record. We recorded the record at the legendary Fantasy Studios in Berkeley, CA under the auspices of engineering master, Nigel Green. Nigel was just getting started as a producer in his own right after having spent several years as Robert John "Mutt" Lange's engineer on records by artists such as Bryan Adams and Def Leppard.
We finished the album by summer of 1993 and delivered it to Interscope. That was when we discovered that Interscope was really no longer interested in bands like ours. They had already become specialists in Rap and Grunge type music and didn't much care for our brand of melodic rock anymore. Also, most of the staff changed and we barely knew anyone at the label anymore. We weren't quite sure what to do at that point.
We did a few more shows that summer and then some more in early 1994 but that was about all we could do unless we could figure out a way to get the album released. Eventually, we were able to convince Interscope to let us have the record and we licensed it out in Europe (on Music For Nations Records in 1996), Japan (on Avex/Bareknuckle Records in 1997) and North America (on Miramar Records in 1998) but it took us 3 years to even get the chance to put it out. By that time we had lost a lot of momentum and we all had to move on to other projects in order to survive. For me that meant joining The David Lee Roth Band in January of 1994.
From a business standpoint, The Storm still exists, since we have airplay and sales on some of the streaming platforms around the world, like Spotify, Apple Music, etc., but the chances of us ever recording or playing live together again are pretty slim. It was fun while it lasted!
Life is amazing though, and as luck would have it, my time with The Storm led, at least partially, into my being asked to join The Steve Miller Band in 2021. Scott Boorey went on to become Steve's manager and has been in that position for almost 30 years now, and several of the crew members that work for Steve had previously worked for us in The Storm, including production manager, Brett Enzensperger, and lighting director, Randy Garber. It's great working with those guys again after all those years!