1999 – 2019
Gregg Rolie Band
Gregg Rolie and I became great friends when I joined The Storm, in 1992, and after the band essentially stopped touring and recording, in 1994, we remained in touch. In 1994, I went on to play with David Lee Roth, followed by Foreigner, in 1995, and Richie Sambora, in 1998.
Gregg, meanwhile, was in discussions for a potential Journey reunion and also formed the band, Abraxas Pool, with fellow Santana alumni, Neal Schon, Michael Shrieve, Jose "Chepito" Areas, Michael Carabello and Alphonso Johnson. That band was essentially the original Santana band, minus Carlos Santana and the late David Brown.
By the time 1999 rolled around, Gregg and his family had moved from the Bay Area to the San Diego area, so at that point, he was a lot closer to where I was living at the time, in the Los Angeles area. We talked fairly often over those years and I would often suggest we record something together but the distance when he was in the Bay Area made it a little more difficult. When he was in San Diego, though, he said he couldn't use that excuse anymore so, knowing I'd put together a studio at my house where I was capable of recording live drums, we talked about recording some of the things he'd been writing.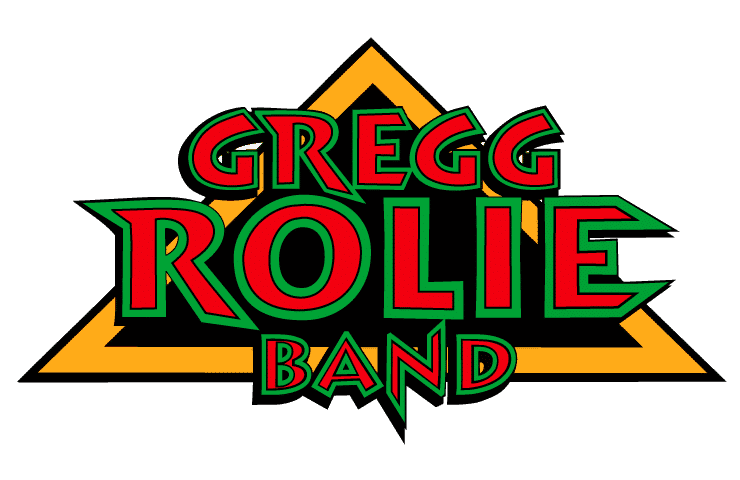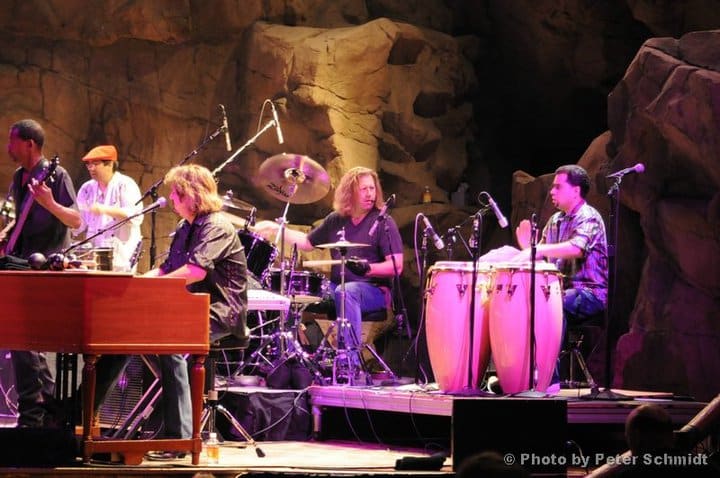 Ron Wikso Onstage with the Gregg Rolie Band at Mohegan Sun
(L-R) Alphonso Johnson, Adrian Areas, Gregg Rolie, Ron Wikso, Toby Borrerro (not pictured – Wally Minko and Kurt Griffey)
We were thrilled with the results and I hope you'll give it a listen if you haven't already. And if you do, I hope you enjoy it!
Anyway, after it was released, we talked about putting a band together to go out on the road and play some of this music, as well as some of the music that Gregg made famous as a founding member of both Santana and Journey (side note: as a founding member of both those bands, he's one of only a handful of people who have been inducted into the Rock & Roll Hall of Fame more than once…incredible!).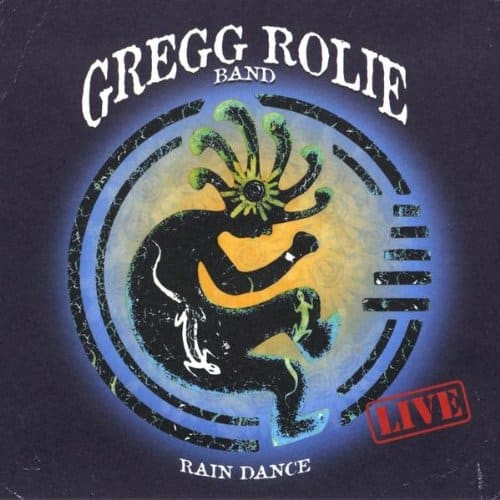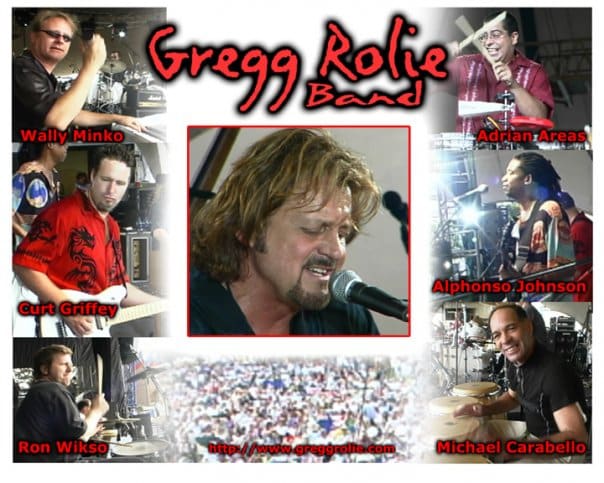 Gregg Rolie Band – (Left Side – Top to Bottom) Wally Minko, Kurt Griffey, Ron Wikso, (Middle) Gregg Rolie, (Right Side – Top to Bottom) – Adrian Areas, Alphonso Johnson, Michael Carabello
Gregg had been recording tracks at his home studio, too…vocals, keyboards, etc., using a drum machine, so the idea was for him to bring the tracks to my studio where I would transfer everything over to my computer and record the drums. We started with two songs in November of 1999, and we were thrilled with the results of our little test run, so we reconvened after the holidays, in early 2000, to continue recording what eventually became the "Roots" CD.
We used the same process of transferring Gregg's vocal and keyboard tracks to my computer, me laying down the drum parts, and then we had Alphonso Johnson come to my studio to record the bass guitar tracks, Dave Amato came to record the guitar and some background vocal tracks, and we also had Tom Marino record trumpet tracks, as well as Brett Tuggle on background vocals.
After that, I sent all the files up to the late, great engineer, Tom Size, who lived in the Bay Area, because Gregg wanted to go up there and use Michale Carabello on congas, and Adrian Areas (Chepito's son) on timbales, plus he had Neal Schon lined up to record some lead guitar on one song.
When it was all said and done, we had it mastered and "Roots" was born.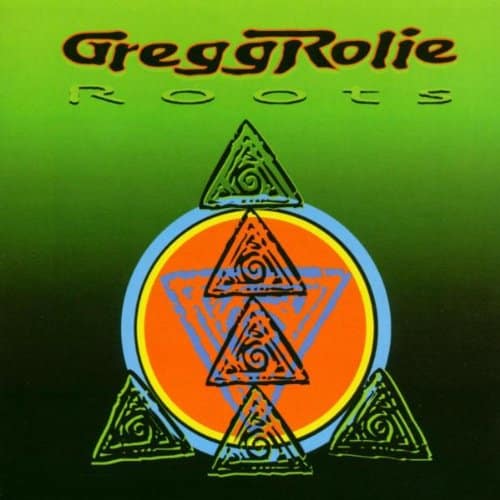 Initially, we did a handful of promotional appearances where we played an abbreviated set, with a stripped down version of the band. We did one at a Tower Records store, appeared on "Rock Line" with Bob Coburn, played on the "Mark & Brian" radio show on KLOS, in Los Angeles, and several other things like that.
In November of 2001, we booked a week's worth of shows in Northern California, at smaller venues, so we put a band together that consisted of Gregg, me, Alphonso Johnson, Michael Carabello, Adrian Areas, Dave Amato (guitarist for REO Speedwagon, who had played on "Roots") and Tom Gimbel, who I've known since we were 17 year old freshmen at the Berklee College of Music, in Boston, MA. Tom not only sings but he also plays keyboards, guitar, sax, and flute, which he did for several years with Aerosmith, followed by about 30 years with Foreigner (he and I were in that band together from 1995 – 1998).
After that, Dave returned to his regular gig with REO Speedwagon and Tom returned to Foreigner, so, in April of 2002, I recommended two other good friends of mine for the band – Kurt Griffey on guitar, and Wally Minko on keyboards. Gregg loved them both and that solidified the lineup that performed as the Gregg Rolie Band for the next 10 or so years, including the recording of the live CD, "Rain Dance Live", which we recorded in 2006, at Sturgis, and which was eventually released in 2009 (scroll further down on this page to listen to all 12 tracks).
We traveled all over the world with this version of the band, playing Hawaii to New York and Florida to Washington in the US, as well as Canada, Mexico, the Philippines, Kuala Lumpur (Malaysia) and lots of other places.
Eventually though, Alphonso, after 10 years with the band, decided to stop touring and Kurt, in 2011, was asked to join Creedence Clearwater Revisited, which was a great opportunity for him. Alphonso was replaced by the great Gary Brown, who was recommended by Michael Carabello and who had toured with Alfonse Mouzon, among others. And I referred my former David Lee Roth bandmate, Rocket Ritchotte, to take over the guitar duties from Kurt. Both Rocket and Gary are great musicians and great guys, and they stepped right into the band and did an incredible job.
In the ensuing years, Gregg had the amazing opportunity to join Ringo Starr's All Starr Band, which he played with from 2012 on, so the Gregg Rolie Band schedule had to be worked around that. I also took on some opportunities to play with Eddie Money and eventually with Kurt in Creedence Clearwater Revisited, so the band didn't work as much after that. Kurt did return to the band in 2019 for a few shows after Rocket left, but he could only play when he wasn't working with CCR and eventually, with the Coronavirus and the scheduling issues, the band just stopped working. It was a great run while it lasted though!!
Listen to "Roots"
This YouTube Audio playlist contains all 12 songs from the CD. Enjoy!
Gregg Rolie – Lead Vocals, Hammond B3 Organ, Keyboards
Ron Wikso – Drums, Percussion
Dave Amato – Electric, Acoustic and Baritone Guitars, Background Vocals
Neal Schon – Lead Guitar on "Breaking My Heart"
Alphonso Johnson – Bass Guitar
Adrian Areas – Timbales and Percussion
Michael Carabello – Congas and Percussion
Tom Marino – Trumpet
Brett Tuggle – Background Vocals
Produced by Gregg Rolie and Ron Wikso
Mixed by Tom Size
Listen to "Rain Dance – Live"
This YouTube Audio playlist contains all 12 songs from the CD. Enjoy!
Recorded Live at Sturgis
Gregg Rolie – Lead Vocals, Hammond B3 Organ
Ron Wikso – Drums, Percussion, Background Vocals
Kurt Griffey – Guitar, Background Vocals
Alphonso Johnson – Bass Guitar, Background Vocals
Wally Minko – Keyboards
Adrian Areas – Timbales
Michael Carabello – Congas
Produced by Gregg Rolie and Ron Wikso
Mixed by Sean Rolie
Listen to "Sonic Ranch"
This YouTube Audio playlist contains all 13 songs from the CD. Enjoy!
Gregg Rolie – Lead Vocals, Background Vocals, Hammond B3 Organ, Piano
Ron Wikso – Drums (all tracks except for "Only You")
Michael Shrieve – Drums on "Only You"
Steve Lukather – Lead Guitar on "Give Me Tomorrow" and "They Want It All"
Neal Schon – Lead Guitar on "Breaking My Heart" and "Lift Me Up"
Dave Amato – Guitar on "Breaking My Heart" and "That's The Way It Goes"
Kurt Griffey – Guitar on "Lift Me Up, "Us" and "You"
Rocket Ritchotte – Guitar on "Look Into The Future"
Alan Haynes – Guitar on "Give Me Tomorrow", "They Want It All", "Rockit", "If I Went Home", and "Don't Be Cruel"
Sean Rolie – Guitar on "What About Love"
Alphonso Johnson – Bass Guitar (except "Only You", "What About Love", "Lift Me Up", "Rockit", "If I Went Home", and "Don't Be Cruel")
Sticky Lopez – Bass Guitar on "If I Went Home", and "Don't Be Cruel"
Kenny Patterson – Bass Guitar on "Lift Me Up", and "Rockit",
Adrian Areas – Timbales and Percussion on "Breaking My Heart" and "That's The Way It Goes"
Michael Carabello – Congas and Percussion on "Breaking My Heart" and "That's The Way It Goes"
Daniel Sahad – Background Vocals
Akina Adderley – Background Vocals
Taylor Mills – Background Vocals
Teal Collins – Background Vocals
Produced and Mixed by Sean Rolie with additional production by Chris "Frenchie" Smith and Daniel Sahad (except "Breaking My Heart" and "That's The Way It Goes – Produced by Gregg Rolie and Ron Wikso – originally from the "Roots" CD")
Mixed by Sean Rolie (except "Breaking My Heart" and "That's The Way It Goes – Mixed by Tom Size – originally from the "Roots" CD)